The best gaming phones in 2018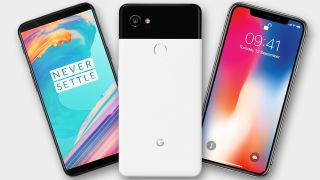 As mobile play continues to mature, it gets more and more important to make sure you're getting one of the best gaming phones you can. Most modern smartphones have similar feature sets, similar quality cameras, and comparable screen sizes. But some are better suited to actually playing games than others. The best phones balance the ability to run games (and make you feel comfortable playing them) with all the other features that you'll use day-to-day. You know, when you're not playing games on them, and you're messaging friends, taking selfies, and watching endless unboxing videos on YouTube.
When you're looking for the best gaming phone for you, the things to consider are: what's the size of the screen? A bigger screen means you can see the details of your game better, and it allows bigger fingers to be more accurate. You also need to consider battery life - many phones will shut down after a few hours of intense gaming, whereas others are specifically designed to keep going. There's no point rinsing PUBG for a couple of hours, then to not have enough juice to call your partner. Finally, value is also a factor. How much do you want to spend to get a phone that really enhances your games? How much of a difference does it make to have a $1000 handset instead of a $500 phone? We've got the answers below. Of course, you may want a bigger screen altogether, in which case check out our guide to the best gaming tablets in 2018.
1. Razer Phone 2
The best gaming phone you can buy in 2018
Weight:
197g |
Dimensions:
158.5 x 77.7 x 8mm |
OS:
Android |
Screen size:
5.7 Inch |
Resolution:
1440 x 2560 |
CPU:
Qualcomm Snapdragon 845 |
RAM:
8GB |
Storage:
64GB |
Battery:
4000mAh |
Rear camera:
12MP |
Front camera:
8MP
Amazing 5.7" screen perfect for games
Great Dolby Atmos sound
10 hour battery life
16:9 aspect ratio feels old
No headphone jack
The Razer Phone 2 really is a marvel when it comes to gaming. That 5.7-inch screen, which does both HDR and 120Hz refresh rate is a thing of beauty, and it enhances pretty much any game you stick on there. No, it isn't edgeless, and it still sticks to the 16:9 aspect ratio, but the quality of the picture more than compensates for this. Add in the Dolby Atmos sound, and the terrifyingly fast Snapdragon 845 processor, and this will run anything you throw at it with panache. The overall build and feel of the phone is large, chunky and well made, so you know it won't break if you get a bit excited on the train, playing PUBG.
It runs Android, so you're getting a phone with a neat, customizable OS, and there are loads of settings within the system to allow you to prioritize gaming and movie watching. The battery is commendable too, offering both rapid charging (which means you're fully charged from 0% in under two hours) and a whopping usage time of 10+ hours. That's not just messaging and occasional use either; that's playing games, using the camera, and accessing the media player. The battery especially stacks up very well against this phone's competition.
The Razer Phone 2 is only let down by everyday use features. Yes, it's large, and no it doesn't have a headphone socket, but it's a powerful phone specifically designed for gaming. If that's your primary concern, this is way ahead of the competition.
Best for...
Anyone who primarily uses their phone for gaming.
2. Apple iPhone X
6-inches of OLED iOS perfection
Weight:
174g |
Dimensions:
143.6 mm x 70.9 mm x 7.7mm |
OS:
iOS |
Screen size:
5.8 Inch |
Resolution:
2436 x 1125 |
CPU:
2.39 GHz hexa-core 64-bit |
RAM:
3 GB LPDDR4X RAM |
Storage:
64GB/256GB |
Battery:
2716 mAh |
Rear camera:
12MP |
Front camera:
7MP
That OLED screen is prettier than your highschool sweetheart
iOS is still the easiest OS to use, with the best apps first
The camera will make your selfies and sunset shots sing
You'll get the options, fonts and settings Apple want you to have, and nowt else
What makes iPhone X the best phone for gamers isn't it's Tate Modern worthy Portrait Mode or the Super Retina OLED screen, it's the mighty power of our Apple overlords. Whatever you want to play - the latest Nintendo spin-off or that weird indie puzzle game - chances are it's going to come to the App Store first, iOS optimized and checked for any nasty bugs or glitches. Hipsters might want you to believe that downloading some janky experimental game from Android is like finding a rare vinyl or going vegan, but one minute you think you're downloading an unheard of game, the next your phone is riddled with electronic STDs. Gross.
No, you don't get the freedom you get with an Android phone, but if I want to fiddle with screen refresh rates or I'll play a game on my PC. If I want to burn my night with Animal Crossing: Pocket Camp or Threes or the latest Monument Valley it's my iPhone X everytime. People can pack whatever power they want into a phone, but your favorite games are always, ALWAYS, going to be optimized for us iPhoners.
Away from gaming, when it comes to email and music and podcasts, I'm not a total Apple zombie. I'm Android curious and I've dipped a toe in the Pixel 2 pond, but for everything I loved about it (mainly those moving wallpapers and widgets) I missed the seamless Apple universe of iMessage and Facetime and yes, even those Animoji.
Best for...
The best iOS you can get
3. Samsung Galaxy S9 Plus
A large screen, perfect for gaming, but lacks battery staying power
Weight:
189g |
Dimensions:
158.1 x 73.8 x 8.5mm |
OS:
Android |
Screen size:
6.2 inch |
Resolution:
1440 x 2560 |
CPU:
Snapdragon 845 |
RAM:
6GB |
Storage:
64GB/128GB |
Battery:
3,500mAh |
Rear camera:
Dual 12MP |
Front camera:
8MP
Dedicated Game Tools app aids with screenshots and recording
Plenty of screen real estate
Snappy chipset can handle anything you throw at it
Frequent recharges needed
For those who opted out of an iPhone X or even the larger-than-life iPhone 8 Plus, the Galaxy S9 Plus is a fantastic alternative. Its capable Snapdragon 845 processor packs this smartphone full of power that's noticeable in just about every single aspect of the phone.
Whether you're looking to run a few rousing games of The Elder Scrolls Legends or put the phone through its paces with a resource-heavy game like Fortnite, this pocket powerhouse can handle anything that throws at it, even if you're looking to multitask. You can also utilize the special proprietary Game Tools app if you want to capture gameplay footage or screenshots, which works quite well.
Colorful casual games offer eye-popping color with the AMOLED display, and you get vibrant visuals and the blackest of blacks when tackling realistic titles as well. The phones' extensive storage and stereo speakers round things out for an incredible package that could only be improved by extending its battery life.
Unfortunately, you'll be forced to charge it after only few hours' use if preoccupied with heavy gaming sessions. Despite that, it's by far one of the best Android-centric options for gaming currently on the market.
Best for…
Luxurious gaming anywhere with ready access to a wall socket for charging
4. Sony Xperia XZ2
The gamer's phone, straight from the source
Weight:
198g |
Dimensions:
153 x 72 x 11.1mm |
OS:
Android |
Screen size:
5.7 inch |
Resolution:
1080 x 2160 |
CPU:
Snapdragon 845 |
RAM:
4GB |
Battery:
3,180mAh |
Rear camera:
Dual 12MP |
Front camera:
5MP
Haptic feedback in the form of the Dynamic Vibration System
Stereo audio for excellent soundscapes
Great performance no matter the game
4K HDR recording
Less offerings for the price than its competition
When you want a quality smartphone experience for gaming, look no further than the manufacturer of the PlayStation 4 itself: Sony. The Sony Xperia XZ2 is an exercise in decadence that may not measure up to the rest of the never-ending cavalcade of smartphone releases over the rest of the year, but it still sports several features that push it quite far ahead of the rest of the pack.
Its top-of-the-line Snapdragon 845 chipset powers a stunning 1080 x 2160 HDR display with 5.7 inches of screen real estate that's perfect for any game, bolstering performance in a big way. But other phones offer largely the same setup – it's the Xperia XZ2's stereo speakers that end up setting it apart. Its dual front-facing speakers are something to marvel over, especially when playing games where sound matters and earbuds just won't do. Coupled with its haptic feedback, dubbed the "Dynamic Vibration System," it offers one of the closest things to a true console experience any other smartphone has yet to deliver.
With decent battery life thanks to its 3,180 man battery and microSD support for an abundance of storage, Sony's excellent smartphone is a viable contender for on-the-go gaming, no matter what your preferences lean toward.
Best for...
Hardcore gamers looking for name-brand quality
5. OnePlus 6
Mid-range price with high-end performance
Weight:
177g |
Dimensions:
155.7 x 75.4 x 7.8 mm |
OS:
Android |
Screen size:
6.3 inch |
Resolution:
1080 x 2280 |
CPU:
Snapdragon 845 |
RAM:
8GB |
Storage:
128GB/256GB |
Battery:
3,300mAh |
Rear camera:
Dual 16MP |
Front camera:
16MP
Excellent stats comparable to other, newer smartphones
Enormous screen
3.5mm headphone jack
More expensive than previous OnePlus models
Less sharp than other similar phones
As is something of a tradition for the rest of the OnePlus line, the OnePlus 6 offers competent specs in relation to other smartphones on the market. It's certainly affordable, and while it doesn't sport a name like Samsung or Apple, its hardware backs up its capability as the smart choice for a lower-priced gaming phone.
The enormous 6.28 inch AMOLED screen is a boon for just about any title, as is the 3.5mm headphone jack, which lets you enjoy sound effects and music without having to rely on external speakers or Bluetooth connectivity to conserve battery life. Its 8GB of RAM is more than enough to support whatever you decide to fire up on it, especially when going from annihilating the competition in mobile shooter to texting others your dinner plans.
It is a bit pricier than some of the previous OnePlus models, however, so keep that in mind when selecting the next phone appropriate for adopting as your primary gaming machine, despite it being a fantastic mid-range option. Still, even at its higher price, it's still far cheaper than many of the other top-shelf options on this list.
Best for…
On-the-go gamers looking to stay frugal
6. Google Pixel 2 XL
A serious alternative to Apple
Weight:
175g (6.2 oz) |
Dimensions:
Length 6.2 in (157.9mm) Width 3.0 in (76.7 mm) Hightt 0.3 in (7.9mm) |
OS:
Android 8.0 Oreo |
Screen size:
6.0 in (152mm) |
Resolution:
QHD+ (2880 x 1440) pOLED at 538ppi |
CPU:
Qualcomm® Snapdragon™ 835 2.35Ghz + 1.9Ghz, 64Bit Octa-Core |
RAM:
4GB LPDDR4x RAM |
Storage:
64 or 128GB |
Battery:
3520 mAh battery |
Rear camera:
12.2MP |
Front camera:
8MP
Super fast charging
Unlimited cloud storage
OLED Screen
The latest Android OS
Uses an adapter for 3.5mm headphones
The latest phone from Google will pretty much run your life for you if you let it. Need to get a bus, train, or flight somewhere? Just ask and it'll tell you how long you have to lose yourself in a game before you're forced to sit next to the person who's decided to bring a three course lunch along on the journey. With their four children. FOUR.
When it comes to playing though you won't find a better screen one the market. The OLED display makes even a simple match-three game look beautiful and if you're playing something with a bit more atmosphere then it really shines. The battery life is superb too, as the Pixel 2 XL lasting up to 7 hours off a 15 minutes charge - ideal for all those long journeys - and the turbocharged Snapdragon processor means all your games load before you can think about checking Twitter again. The only tiny, and I mean tiny, downside is that is doesn't have a dedicated 3.5mm jack for wired headphones. But it does come with a USB C to 3.5mm adapter, which goes a way to solving that problem. As I said, tiny. If I had the choice of a new phone again I'd still pick this every time.
Best for...
Gaming on the go without battery worries
7. iPhone 8 Plus
The iPhone's big brother
Weight:
202g |
Dimensions:
158.4mm x 78.1mm x 7.5mm |
OS:
iOS |
Screen size:
5.5" |
Resolution:
1920x1080 |
CPU:
A11 Bionic chip with 64-bit architecture |
RAM:
3GB RAM Apple A11 Bionic |
Storage:
64 / 256GB |
Battery:
2691mAh |
Rear camera:
12MP |
Front camera:
12MP
Great battery
Screen goes for miles
Best smartphone camera on the market
You've not got the X
Apple's iPhone 8 Plus does exactly what the name suggests. It takes everything you get with the iPhone 8 and enlarges it, giving you a iPad style experience in a device that still fits in one hand - even if it can occasionally look like a prop meant to make people look like they're shrinking. Although it can take a little while to adjust to using a bigger handset, you quickly learn to take advantage of the bigger screen, and quickly forget that weenie little thing you used to peer at.
With the iPhone 8 Plus, you get the best of both worlds in terms of iPhone and iPad, with something that fits the role of a phone but gives you the benefits of a tablet for more stable gaming and a longer, more robust battery that won't blow it's charge after a couple of minutes of full 3D graphics. That means it's fine for things like Threes or a bit of Candy Crush, but really steps up when you go to play something like Mini Metro or The Room series - games where smaller details need to be seen and more finger room is really needed. It is, basically, an iPad Mini-mini. Oh, and you've got one of the best smartphone cameras on the market.
Best for... When you want iPad gaming without the iPad
8. Nokia 6.1
A budget-friendly portable gaming option
Weight:
172g |
Dimensions:
148.8 x 75.8 x 8.2 mm |
OS:
Android |
Screen size:
5.5 inch |
Resolution:
1080 x 1920 |
CPU:
Snapdragon 630 |
RAM:
3/4GB |
Storage:
32GB/64GB |
Battery:
3,000mAh |
Rear camera:
16MP |
Front camera:
8MP
Excellent price for just about any budget
Decent specs for the price
Good chipset for the price too
Slightly lower specs than other gaming phones
Less RAM than other similar models
If the best and the brightest mobile tech doesn't concern you and you just need a formidable piece of hardware suitable for gaming, the Nokia 6.1 is a viable option. It's perfect for mobile gamers who want a more cost-effective option than the latest and greatest selections out there, and while it sacrifices newer tech for a lower price, it's still capable of reliable performance.
The stylish Nokia phone comes standard with the Snapdragon 630, which obviously isn't the top of the line when it comes to processing power, but the phone's decent amount of RAM ensures there are few issues when playing labor-intensive games. Still, it's a bit less than what you may be used to. You won't be able to crank up your graphics settings to Ultra or anything like that, but it's perfectly fine if all you care about is having an available mobile device to jump into the most popular titles out on the App Store or Google Play Store with friends.
You get a decent suite of additional specs as well for the price, but the spotlight here is the price, since it's the most affordable out of the current crop of phones out there appropriate for regular gaming. It's nowhere near top-tier with its list of specs, but the price is certainly right, and that lets it hang with the best of them.
Best for…
Frugal gamers with no need for keeping up with the very best
9. Moto Z2 Force
A wildcard for anyone looking for something a little different
Weight:
143g |
Dimensions:
155.8 x 76 x 6.1 mm |
OS:
Android |
Screen size:
5.5 inch |
Resolution:
1440 x 2560 |
CPU:
Snapdragon 835 |
RAM:
6/4GB |
Storage:
64GB/128GB |
Battery:
2,730mAh |
Rear camera:
12MP |
Front camera:
5MP
Interesting Motorola Mod capability
Great-looking screen
Small battery
Slower processor
The Moto Z2 Force is a slick smartphone with plenty of juice to get you through any gaming session, despite its somewhat disappointing battery at 2,730mAh. It does, however, feature the Snapdragon 835 chip that you'd expect from a phone of this caliber, even though that makes it a bit dated when compared to the other phones on this list. It's a little less up-to-speed when it comes to the new gaming standards, but it can still hold its own.
It's also capable of working alongside the Google Daydream VR platform in addition to utilizing the Moto GamePad, which makes it a little closer to "regular" gaming experiences with games that let you utilize a controller. This is one of several different Motorola "Mods," which also include speakers, camera, a printer, and various other options that you can use to customize your phone. If gaming on the go with something that feels sturdier, with a 'real' controller appeals to you, Motorola's smartphone is an great option.
I HOPE YOU LIKE MY ARTICLE SO PLEASE SHARE WITH EVERYONE
THANK YOU.